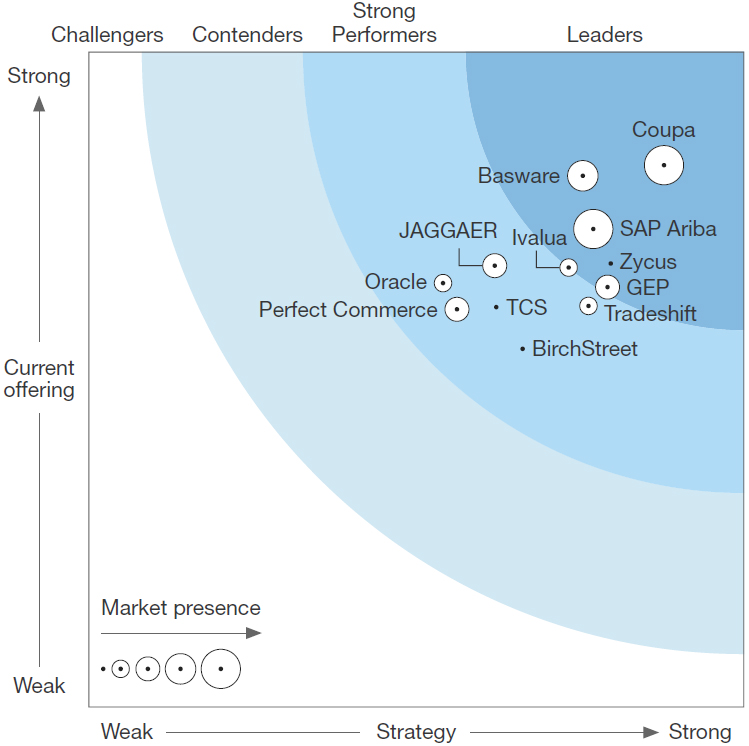 Forrester named Basware among the leaders that offer a "superior combination of smart, usable eProcurement software and strong company strategies" in their report, The Forrester Wave™: eProcurement, Q2 2017.
We'll let you download the report for the details, but here's a few highlights on why we think we're best suited to help you:
Seeing a portion of your spending is not enough
In the report, Forrester states that "Basware excels in invoice automation for global organizations." This means we can process every type of invoice you receive from every single supplier and because of that you get 100% visibility over all spending – both direct and indirect.
The success of any e-procurement solution hinges on people actually using it
Forrester says that procure-to-pay specialists including Basware "deliver rapid results by increasing adoption." Based on 30+ years in the industry and a holistic perspective on buying and payment processes, we've designed an approach that makes e-procurement fit into the way people already work, so you can achieve 100% user adoption and get those quick wins.
Truly getting rid of paper and inefficiencies means automating more processes
With the "broadest functionality to manage different spend categories and invoice capture methods" we empower you to automate across the entire purchase-to-pay process in one single solution. According to the report, "Basware's focus on automating process and minimizing manual approvals is an important differentiator, because most of its competitors still emphasize outdated multistep, manual approval chains."
FREE DOWNLOAD

* All fields are required